ND MX-5 Miata Moto East Tuning Results
For those that know us in the Miata world, you'll recognize that we operate very differently than your typical performance shop. We always look at everything empirically, and ensure we are 100% confident in our product before pushing it out to the consumer. This means sometimes it takes longer to release, but the end result is that quality and reliability are always better. This is one of the reasons racers use our tunes and our products, and why you'll find our tuning used across several platforms, racing classes, and most of the Pirelli World Challenge MX5's that run today. We also supply hard parts for racers that are specifically designed for race use, with many of those features trickling down to the consumer products (i.e. our intakes, turbo kits, mufflers, flex fuel kits, intake manifold, header).
For the ND we partnered with Eurosport Racing and GuestDriver.com in Joliet, IL next to the Autobahn Country Club race track. For this round we are doing two of the cup cars, one without a header and one with. Dyno used is a dynapack. This particular dyno gave us a baseline of just over 132 WHP on the totally stock cup car.
We started by first gathering a good bit of data from these cars and some road cars. This is a very important first step in understanding exactly how this ECU operates. To make power, we first worked the air fuel ratios to find out exactly where we are making best power. From there we worked on the cam timing to find the most optimal combination of overlap. Once we did that we moved on to the ignition timing. Reason for this sequence is to ensure that knock retard is minimal and we can differentiate what is actually getting us the gains.
Initial impressions? The stock tune is VERY good as is. This is no surprise, and as already discussed previously the car is very much designed to "ride" the knock sensor and always be at peak timing. However, with good gas (93 or better) you can start to get the more substantial gains.
After the first day we got the first car done (stock cup car), and the results are outstanding! From 132 we went up to 145 to the wheels. Below is a version with the stock rev limit.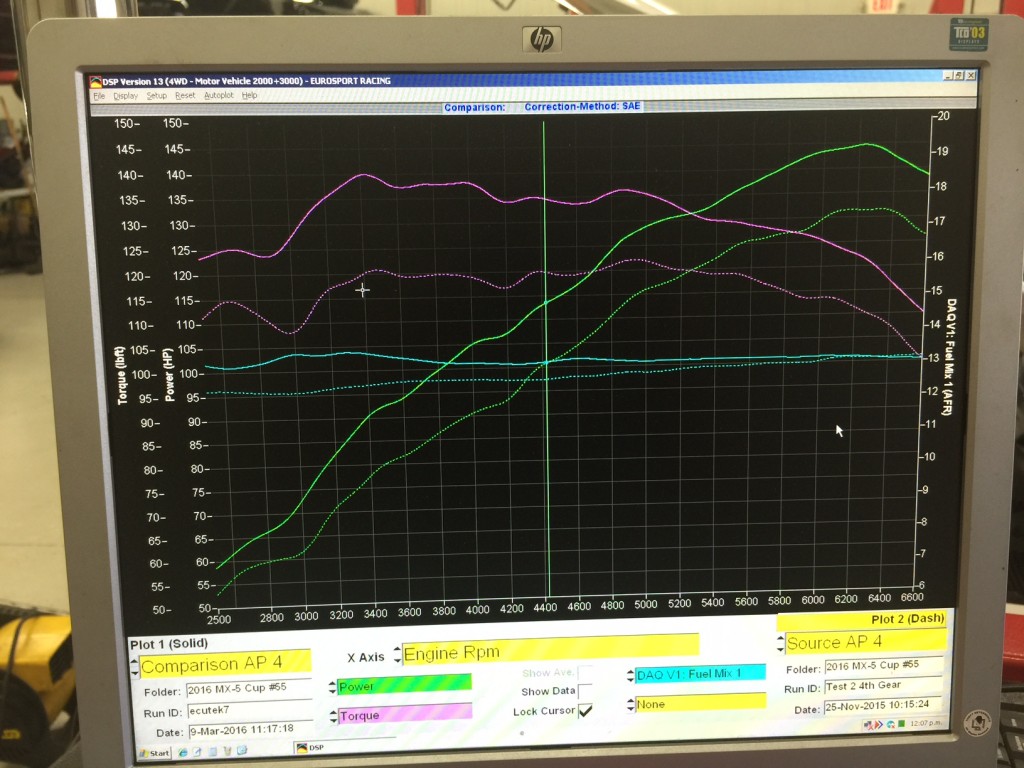 On this version we stretched the limit to 7200, and power held all the way! Throttle is being cut here by the ECU, and this will be fixed with an update from EcuTek in the very near future.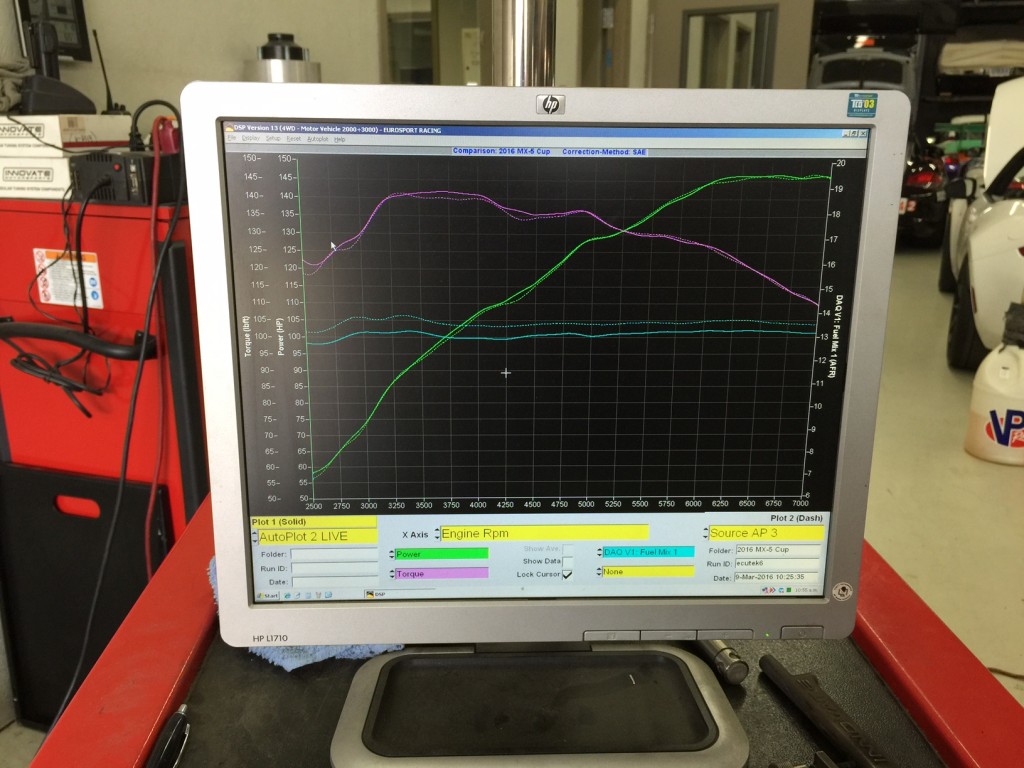 Header Testing/ Day Two
Day two we had set aside for the header equipped car. With direct injection, scavenging is critical in making power. One of the reasons we are so successful on the BRZ/FR-S platform is our ability to fine tune for each header on the direct injection FA20. This proved valuable experience here and saved us a good bit of time. The Mazdaspeed header is a great design, with maybe just slightly smaller primaries than what we would have liked. But being a truly equal length, it has the advantage of making more peak power at race revs (4500-7500) but that will come at a slight cost for the street user—the "torque dip" that every BRZ/FR-S owner is intimately familiar with. 20+ ft/lb dip in the low range. These can be slightly massaged with cam timing, but they are actually caused by the physics rather than tuning, and can only be worked on so much. Towards the end you can see we got rid of the worst of it at 3500, and really made the most of the the header throughout.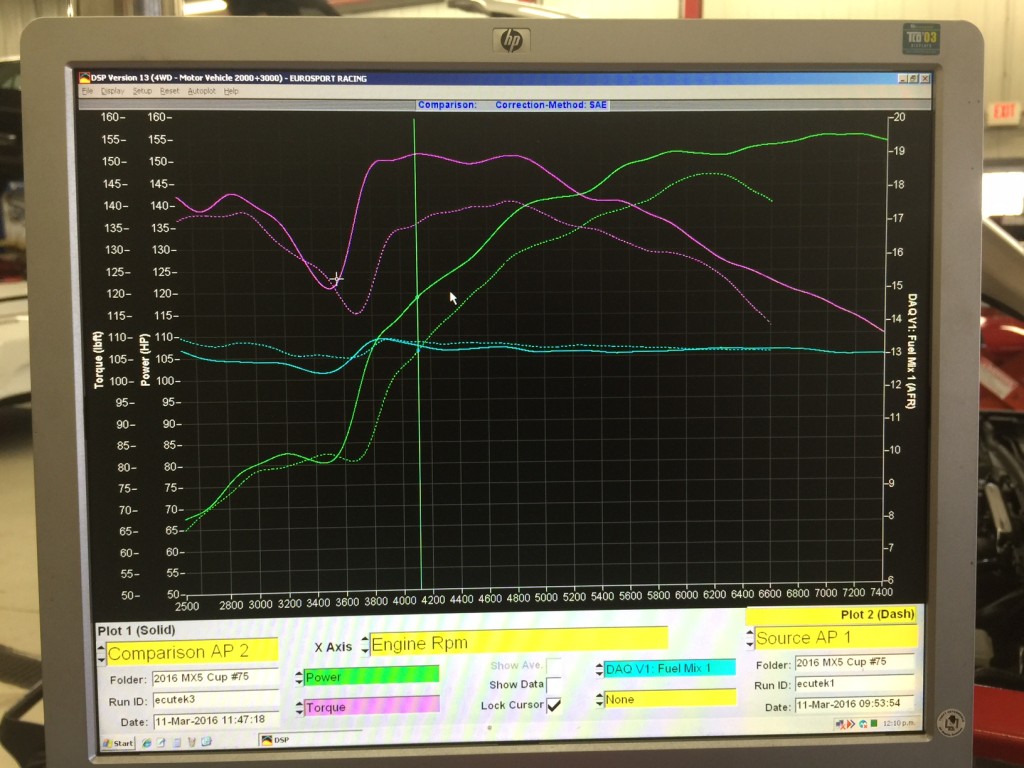 The simplified explanation is that the same pressure waves that are responsible for scavenging and the >100% VE at high RPMs, resonates at low RPMs and interferes with power delivery. With all this in mind we took the tune from the day prior, and then began to iron out some of the areas where the header needs changes. The result? Yet again we were blown away with how well the car did. In comparison the 132 to the wheels factory, 145 tuned, we hit 156 with the header and tune! The ND does not fail to impress here, showing slightly higher gains from both tune and header than what we saw with the NC.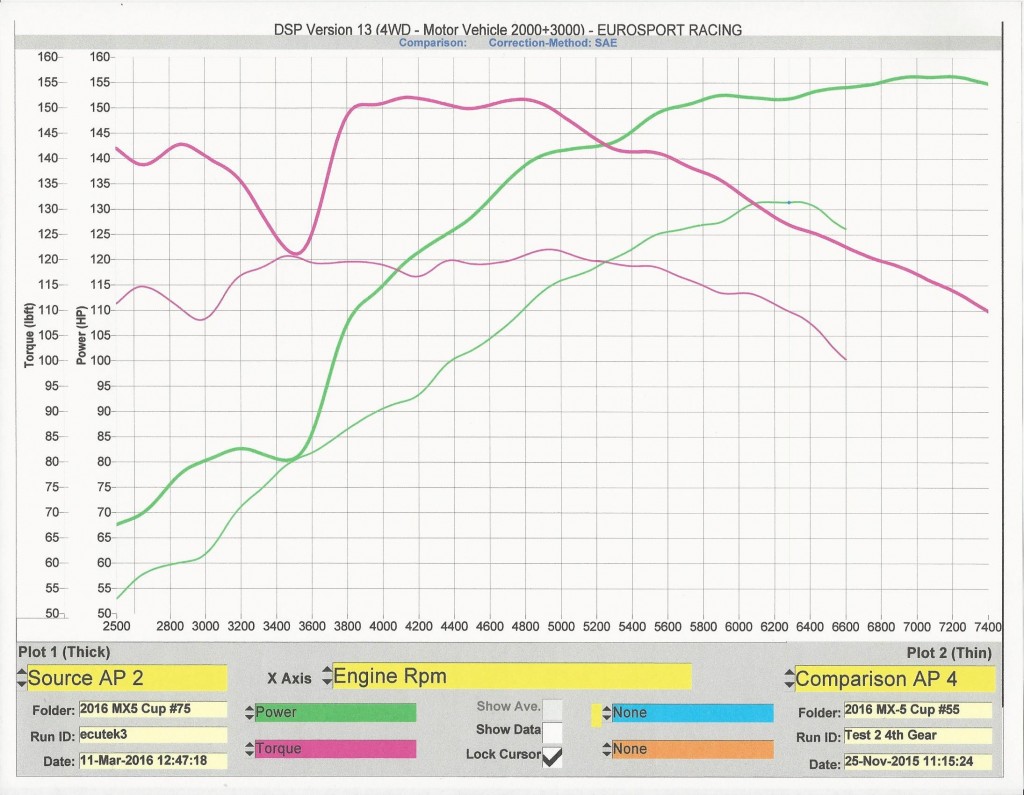 At this point we are going to keep tabs on the cars and see how they perform throughout the season. During testing we continued to make power with every bit of timing we added, however, we were approaching the range where diminishing returns tell us that we are very close to MBT and it is best left just a hair under that to leave some margin for heat etc… So with this we are 100% confident that folks will find great value for both street and track users with tunes, especially with the addition of modifications. Given this data we are officially taking our tune off of "beta" and it is now officially released.