Dyno Sheets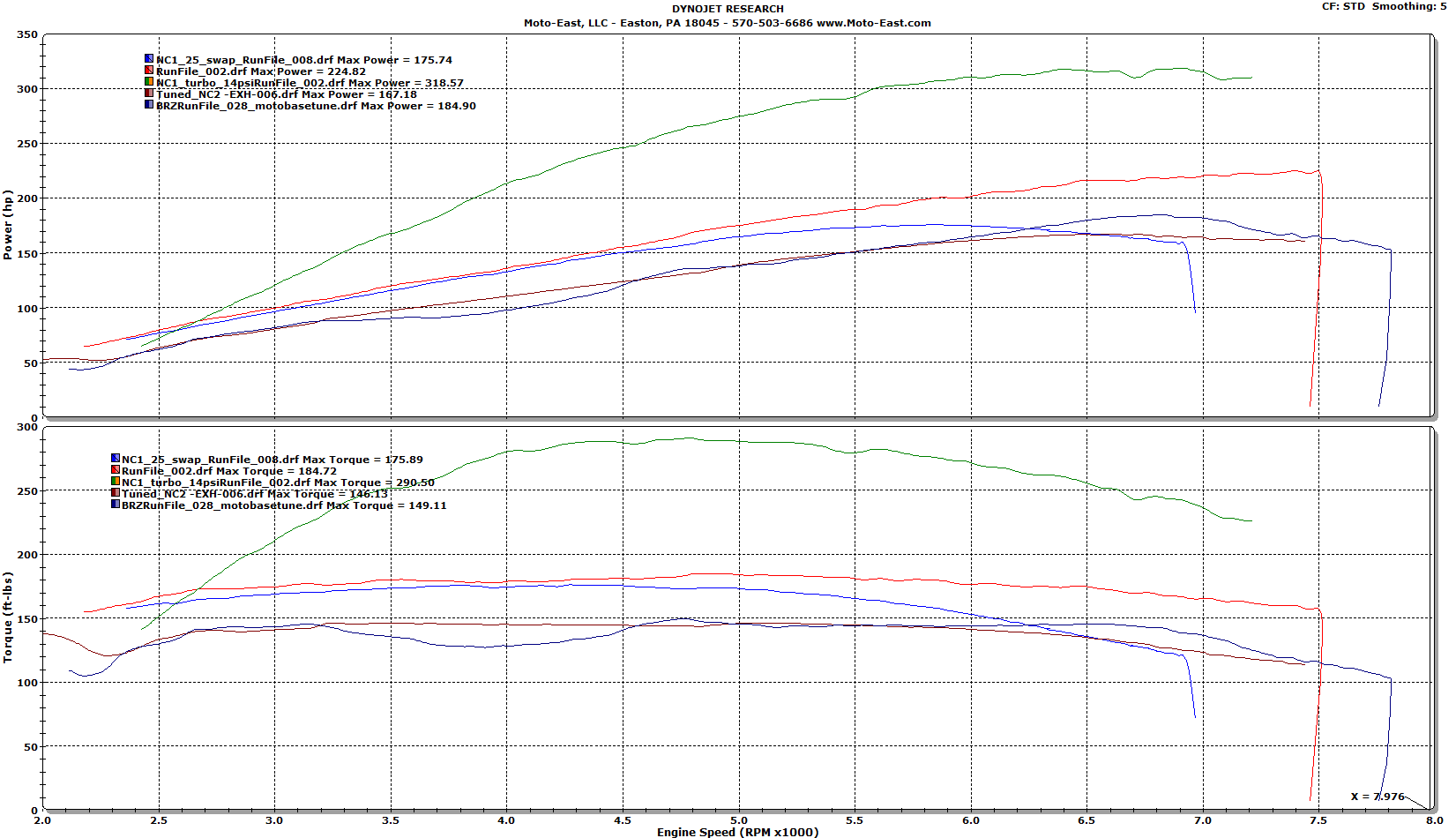 Many can show gains using extrapolated, overly corrected, or theoretical numbers. All of our dynos are done 100% by third parties to assure no bias, and most are submitted by customers who we have only tuned remotely!
Highest confirmed HP MX-5, tuned using Moto-East hardware/base tune fine tuned by the customer on the dyno: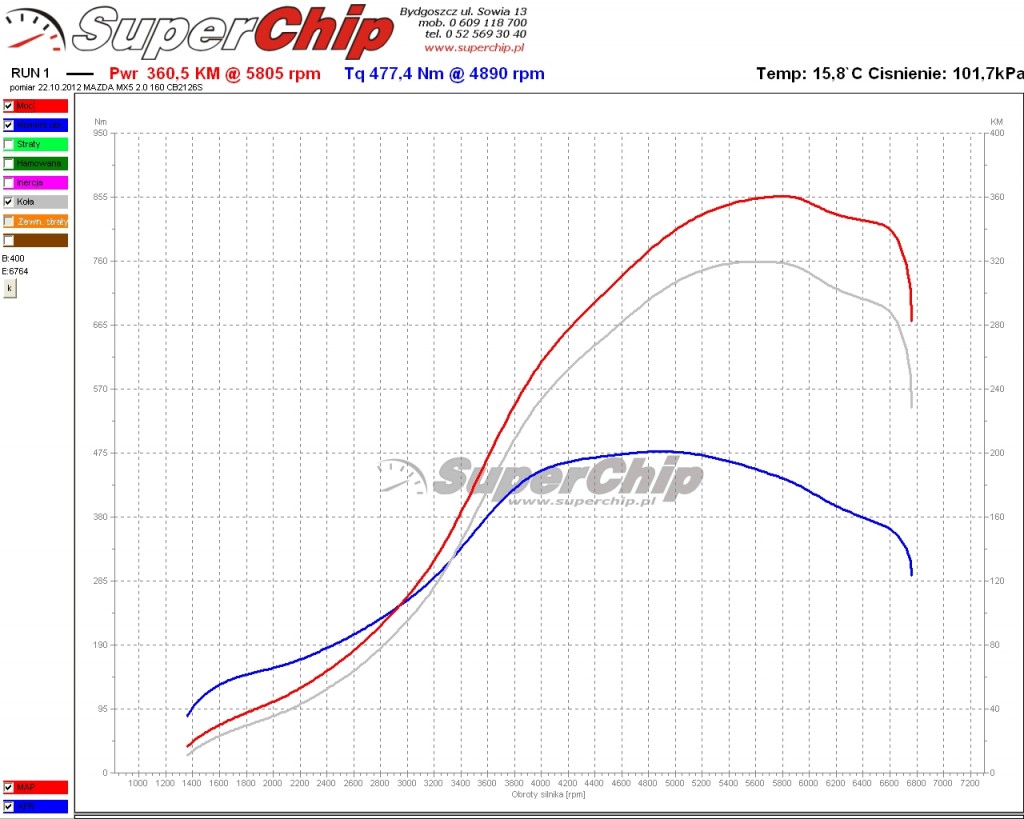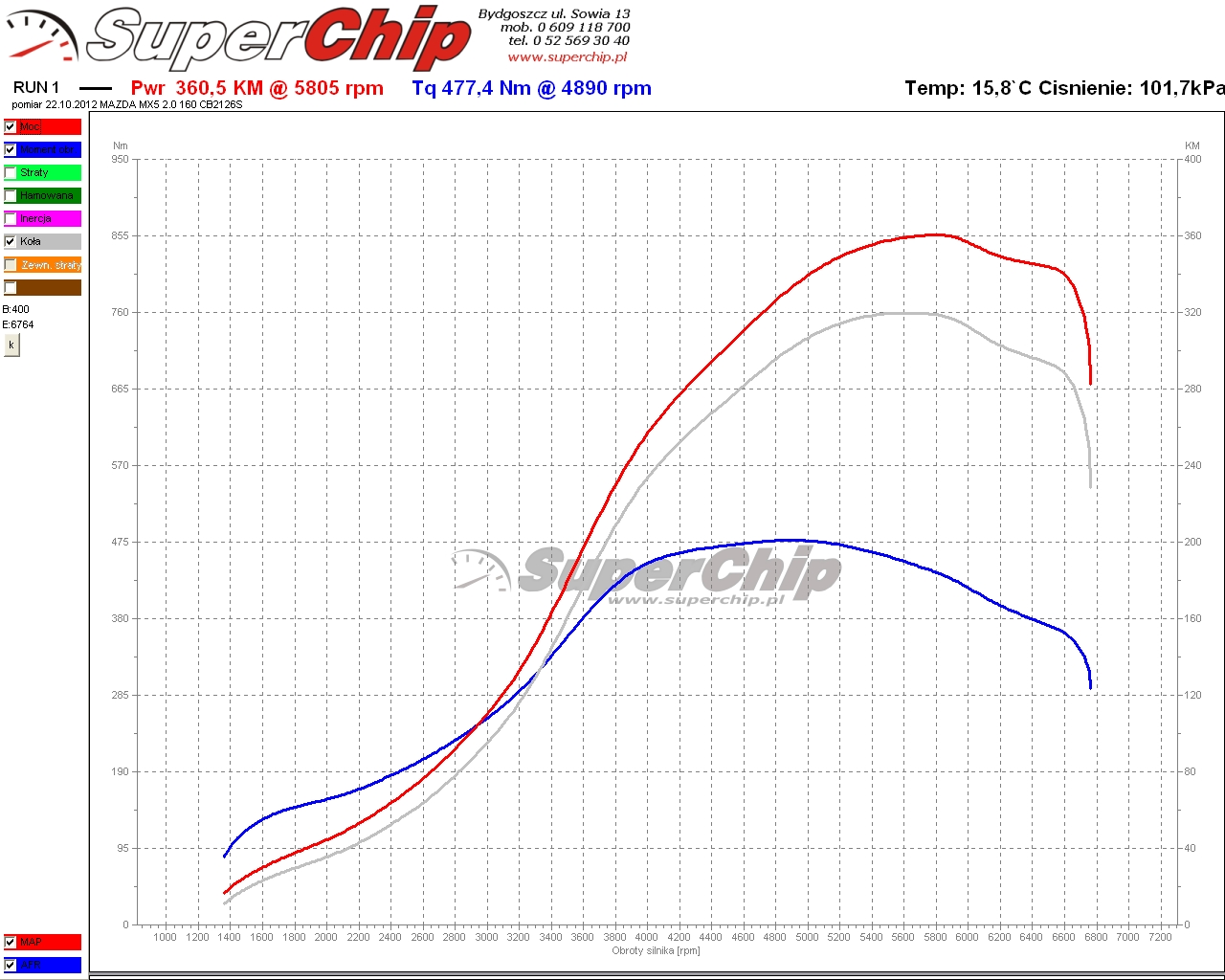 2.5l MX-5 – Stock Cams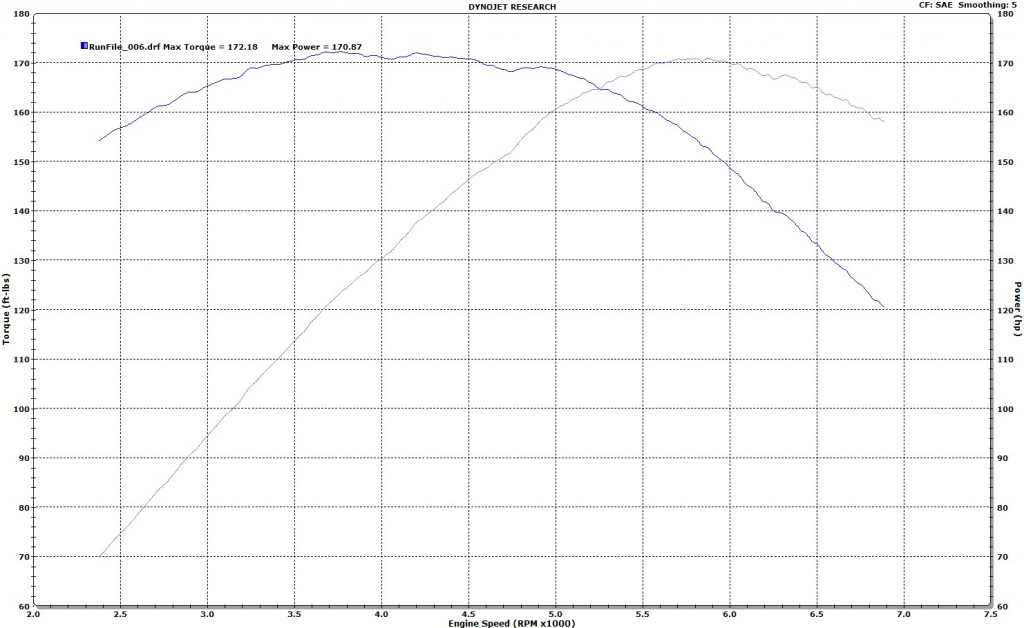 2.5l MX-5 using our Stage 1.5 cams (vs stock). On most dynos you will see 185 whp. Gains are everywhere except a small bit on the low end.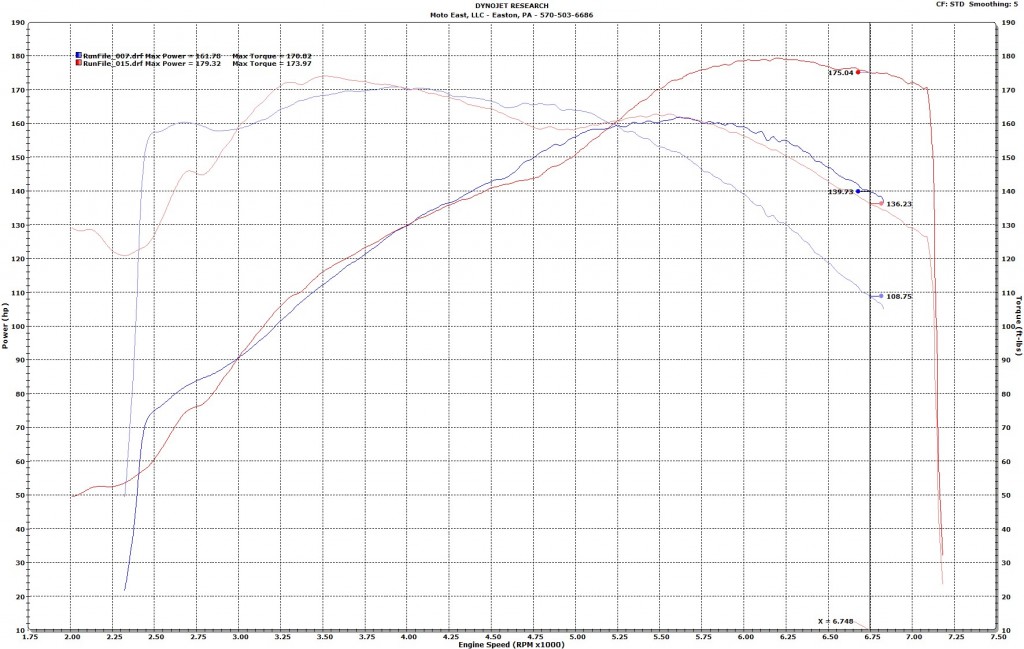 And what happens when you swap the 2.0l intake cam on the 2.5. The red line is the 2.0l intake cam plot. You can see it stretches the powerband but at the expense of the low end.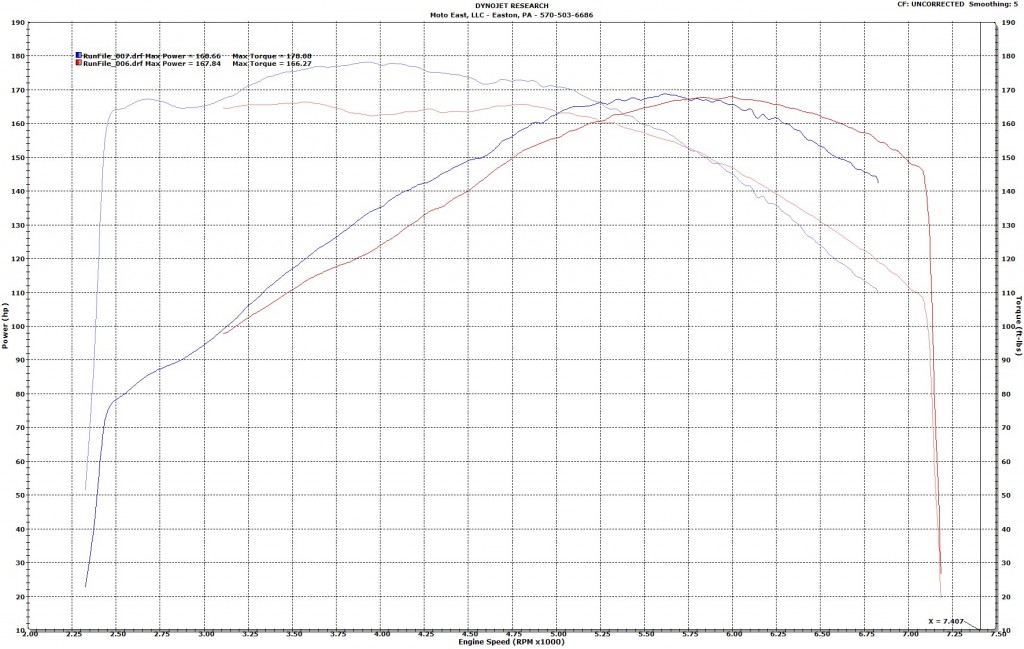 Another 2.5l MX-5 (remotely tuned half a world away in Australia)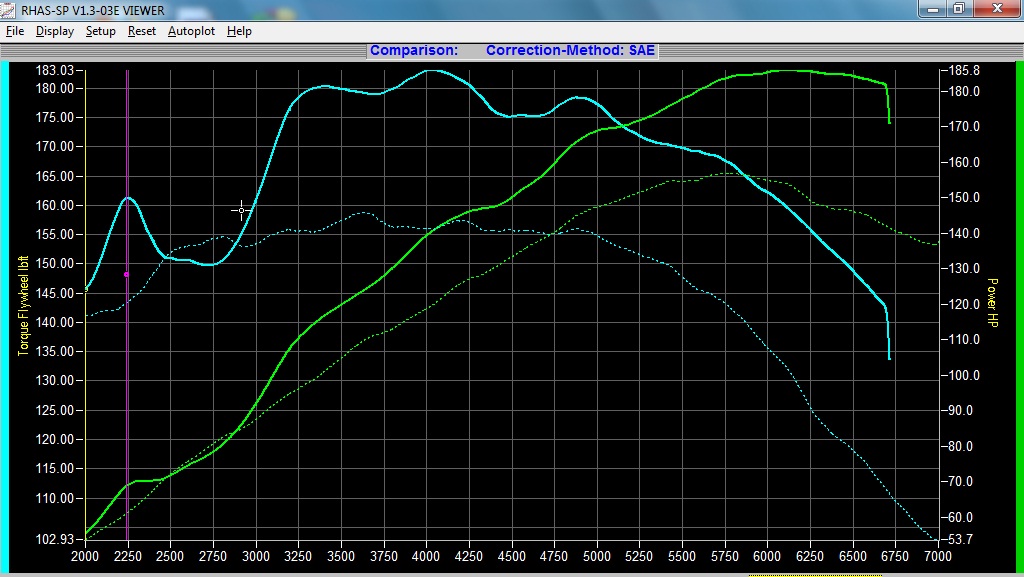 Our 2006 with our Stage 1.5 cams vs a 2.0l with bolt-ons.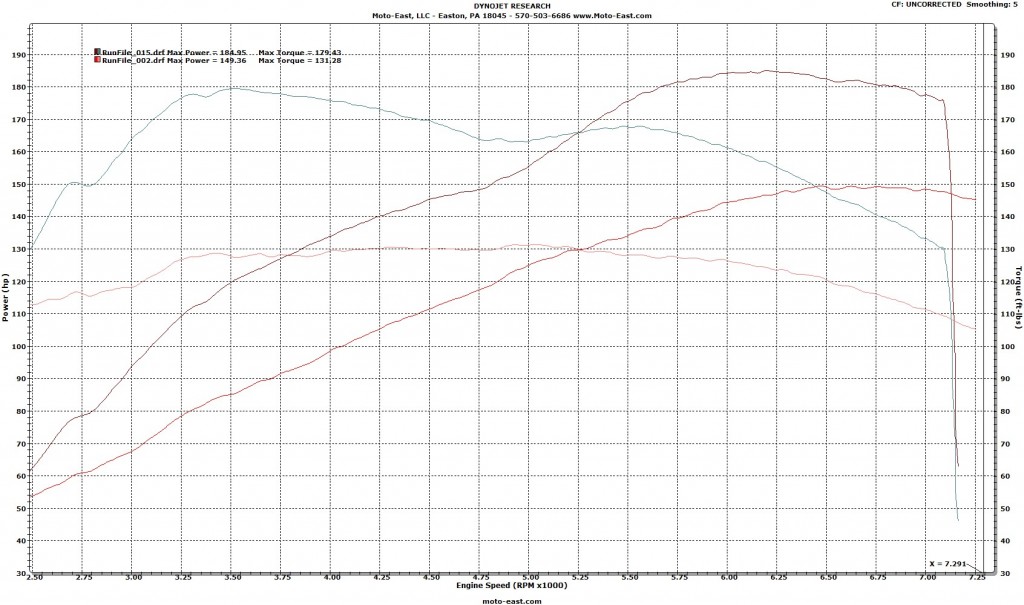 What happens when you replace a performance header (1.625 primaries) with our massive 2″ primary version on the standard (but cammed) 2.5: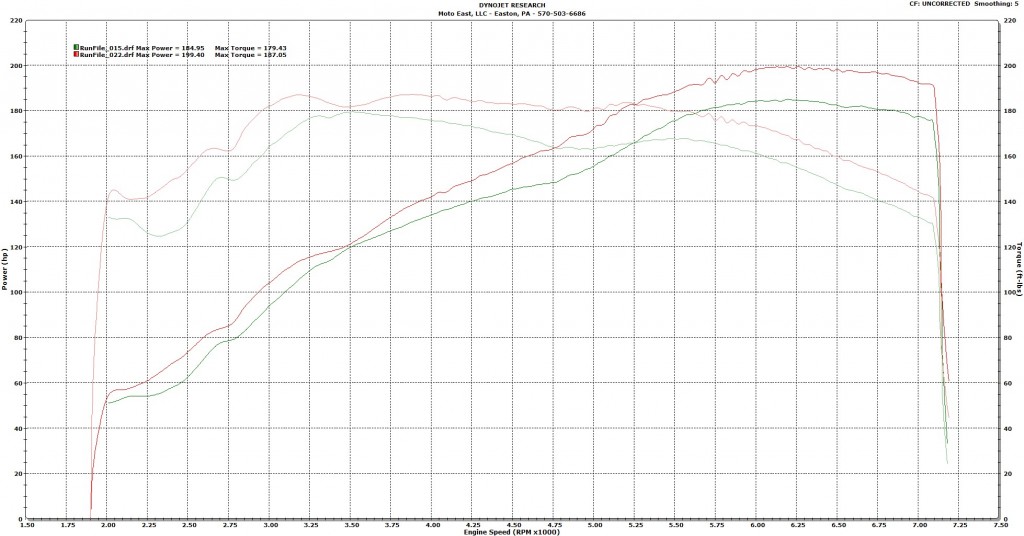 Our 2006 with our cams and a Kraftwerks kit/2.5 combo using our custom adapter brackets: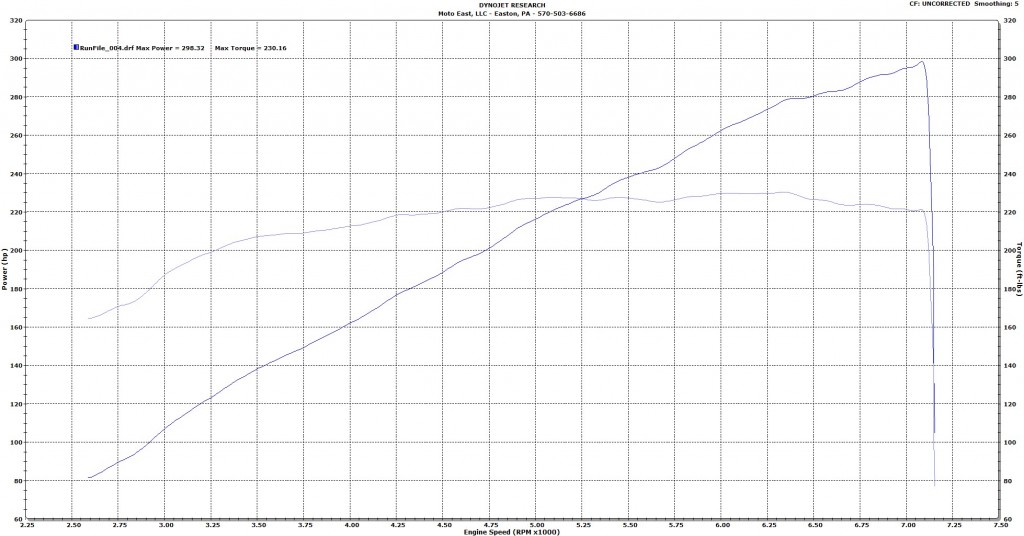 Normally Aspirated 2009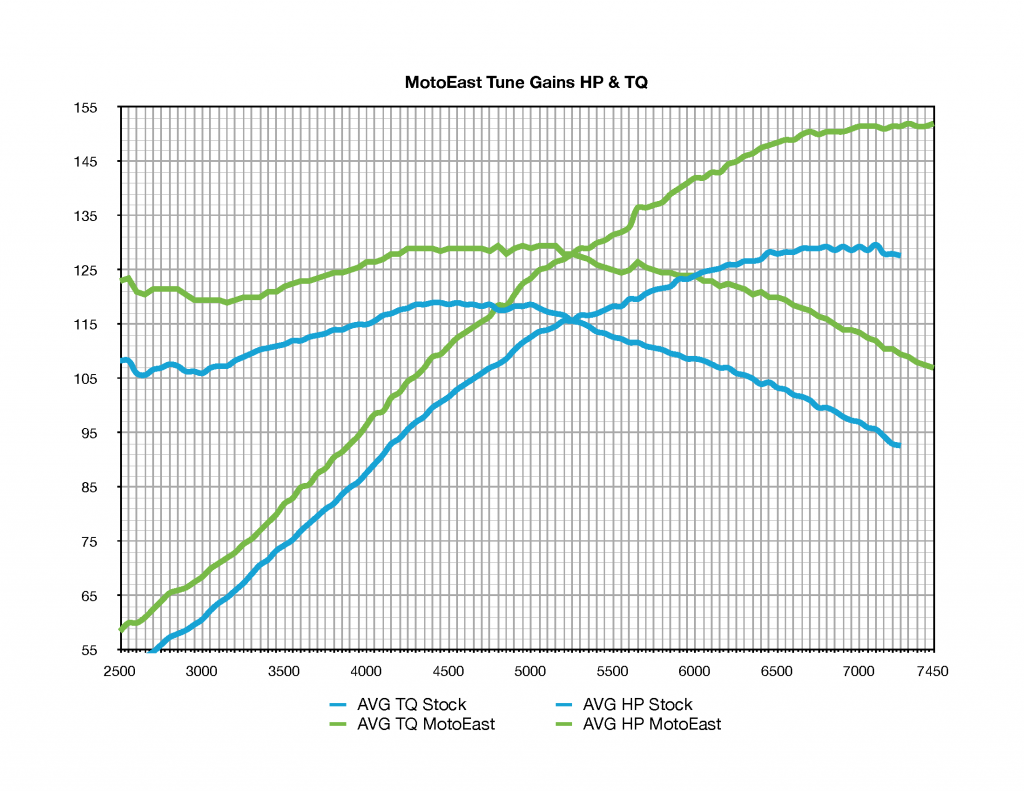 Another Normally Aspirated 2009 with a different exhaust/intake setup: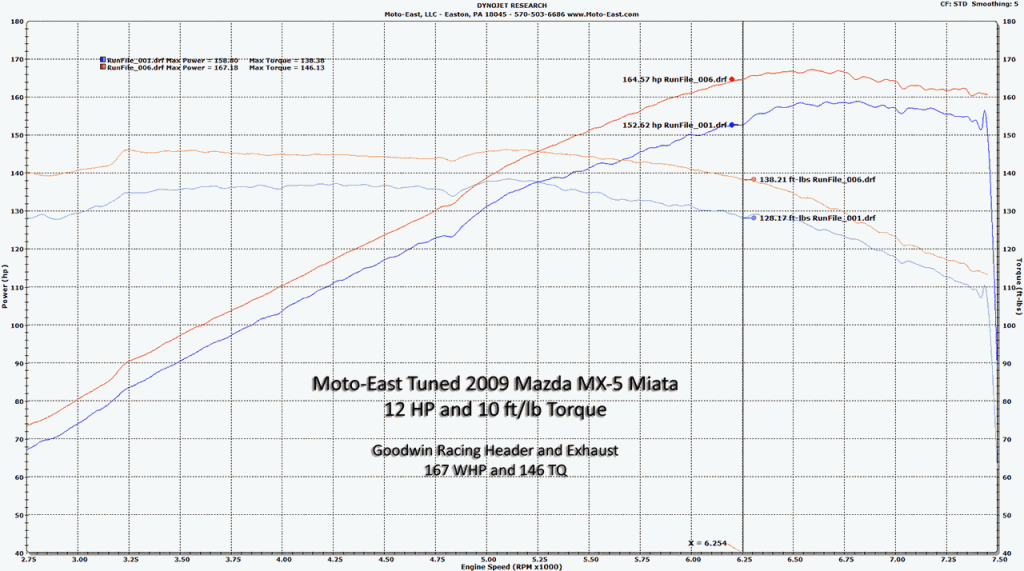 Another NA 2.0l MX5, this one is equipped with a header & exhaust and our tune. Typical gains.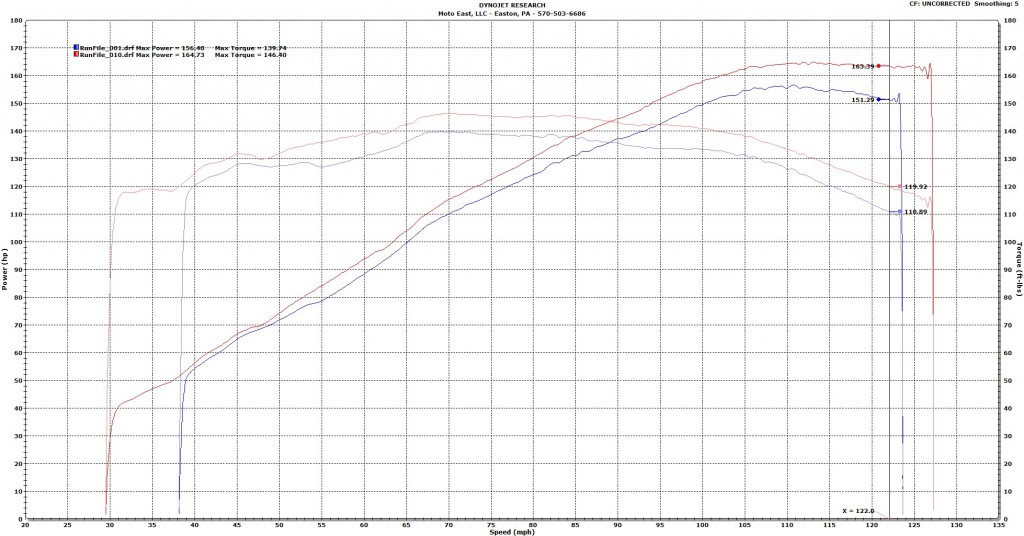 Our Bell Engineering equipped MX-5, highest WHP stock motor MX-5: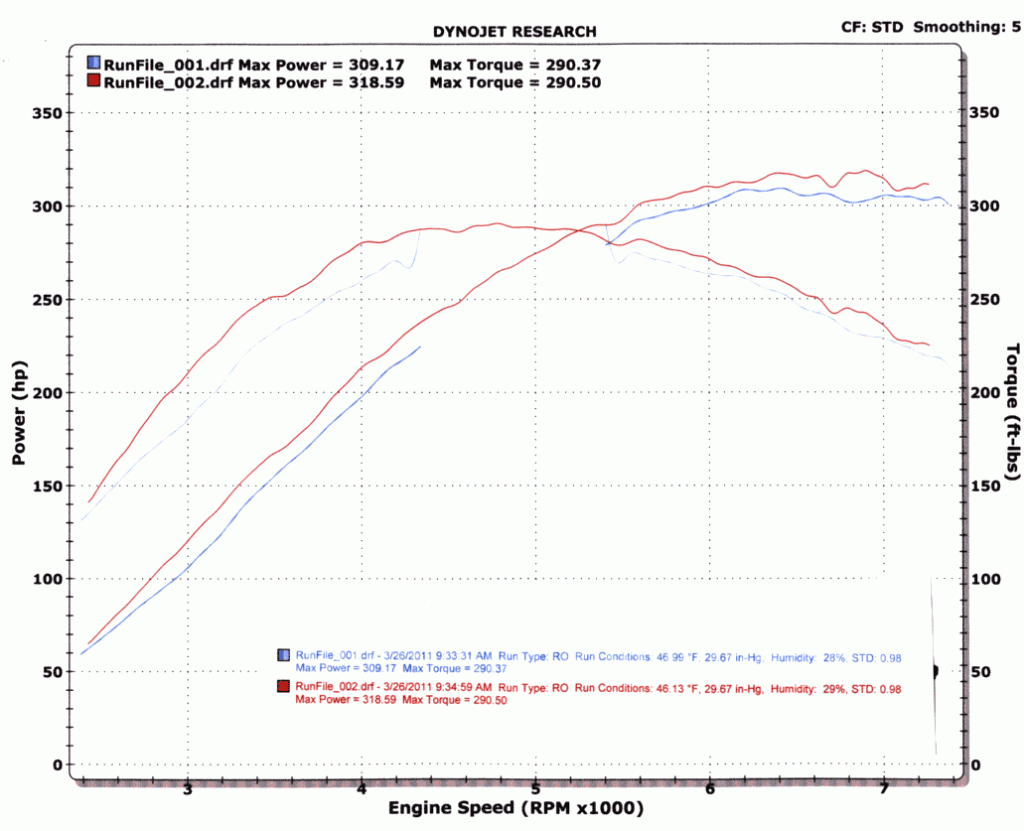 Cosworth Supercharged MX-5s: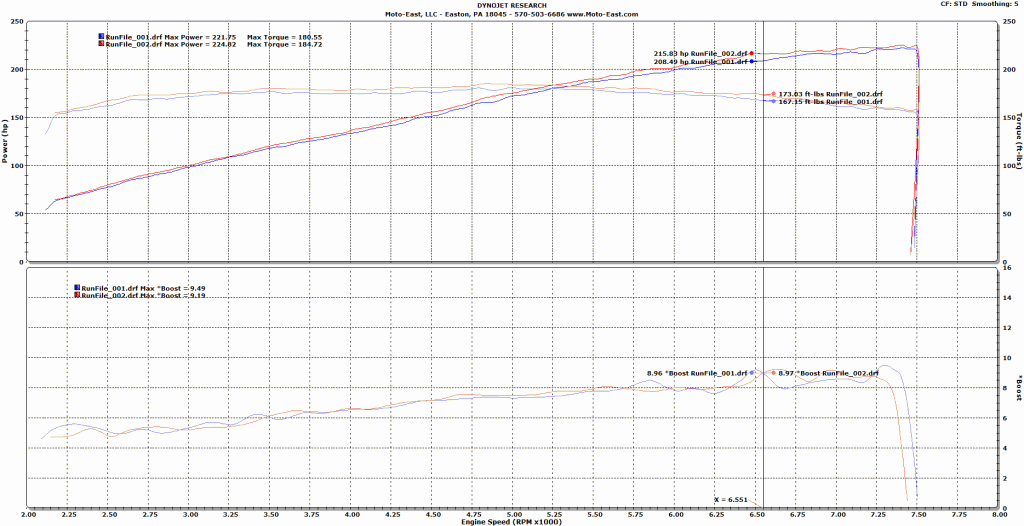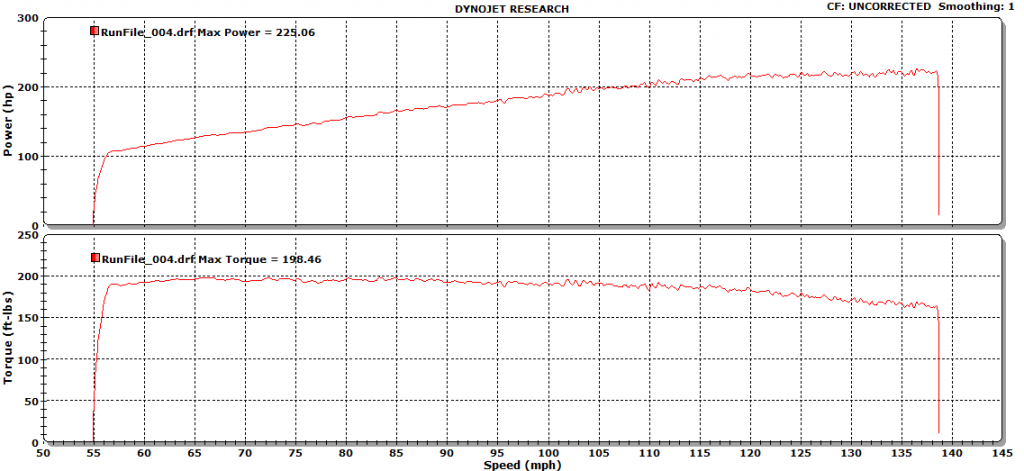 Cosworth/MP62 MX5 (green) vs our 2.5 with headers and cams (blue):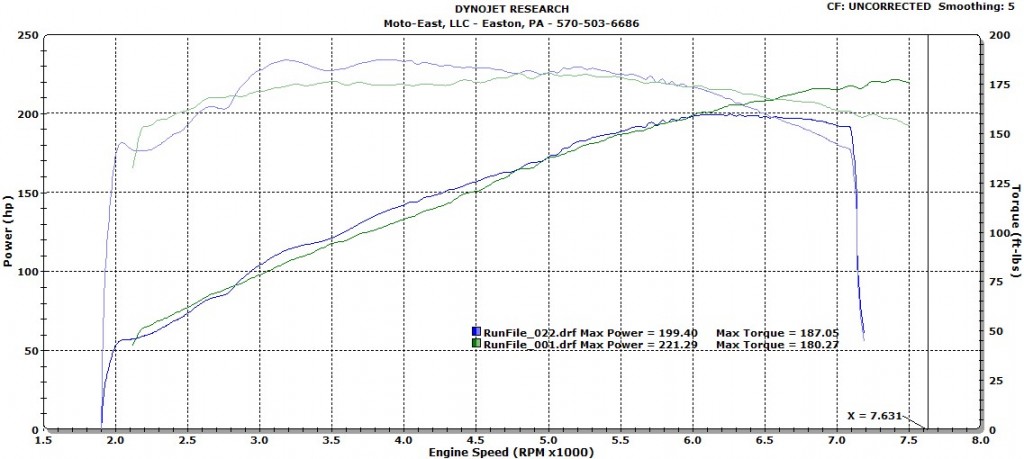 Cosworth/MP62/Goodwin Racing/Flyin' Miata Supercharger Kit. 2.0 with a 3.1 pulley vs a 2.5 with a 2.9 pulley and very mild cams. 2.5 wins by a long shot, and the cams help the top end breathe instead of having the usual 2.5 fall-off: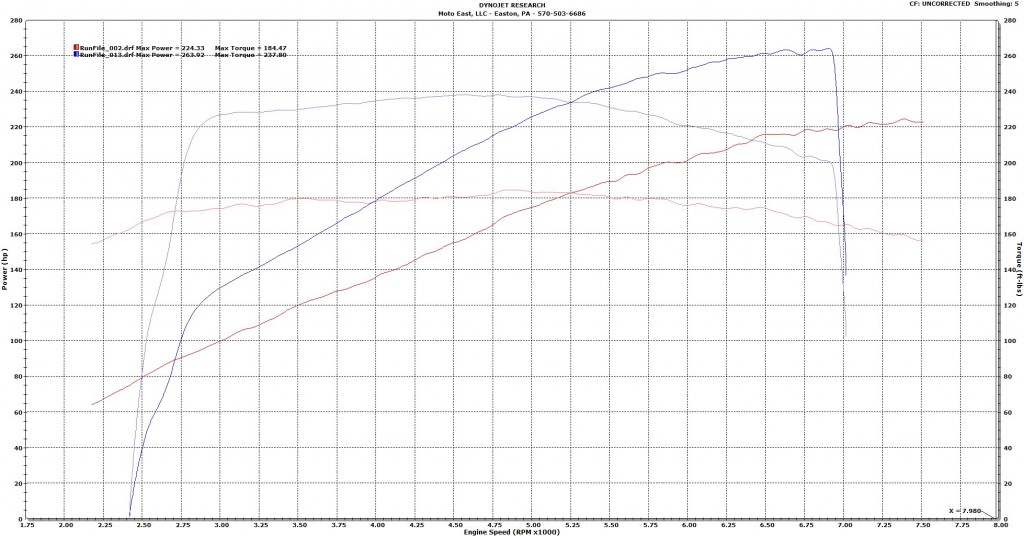 MazdaSpeed DISI Models: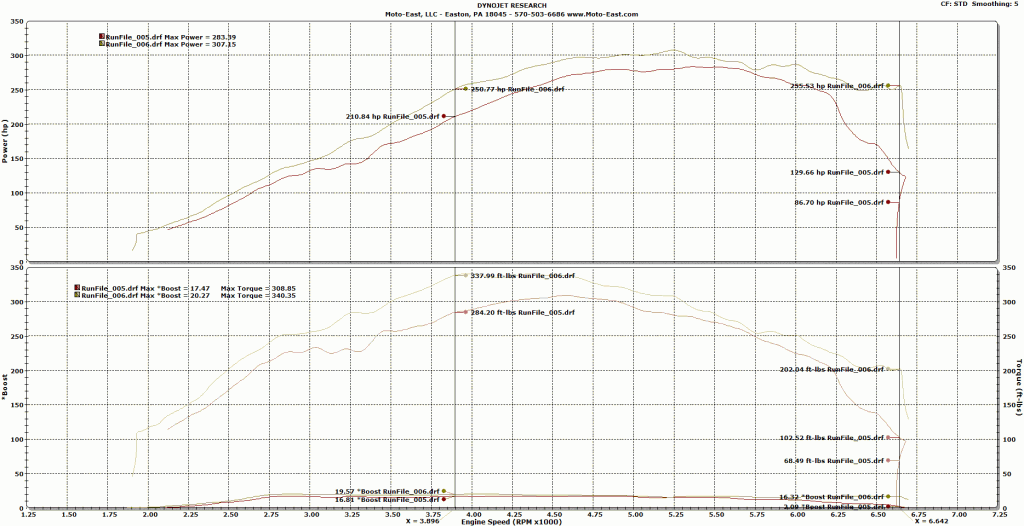 Subaru BRZ/Scion FR-S/Toyota GT86 (FT86):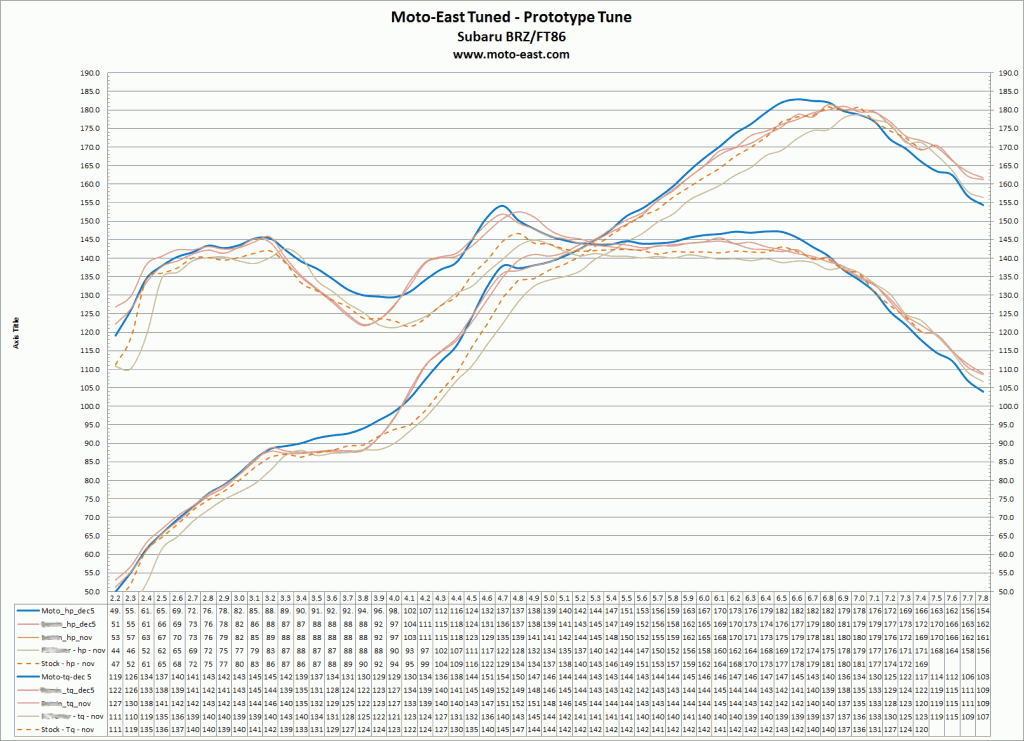 Overlay of various cars/setups!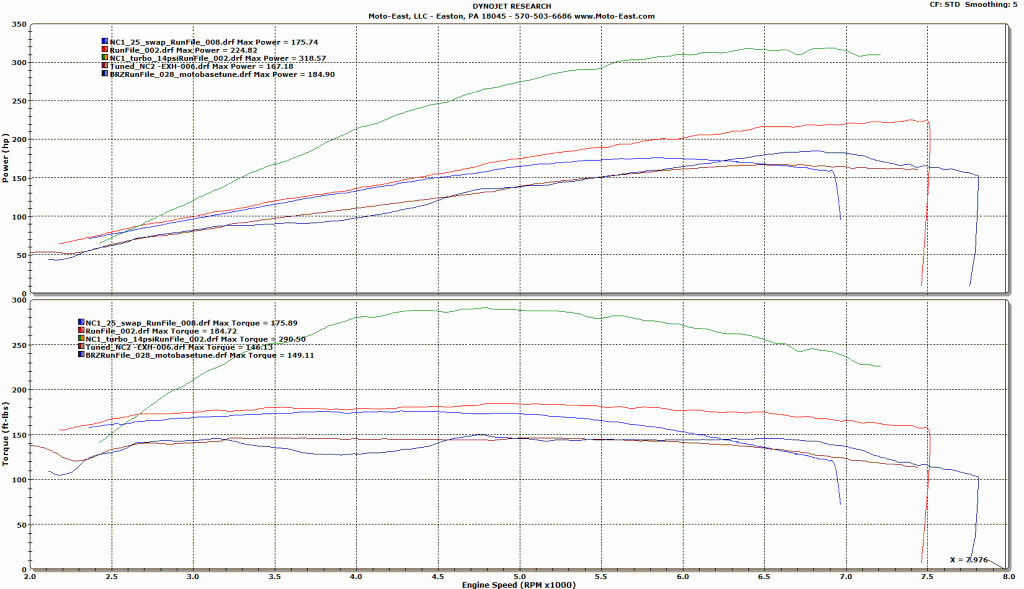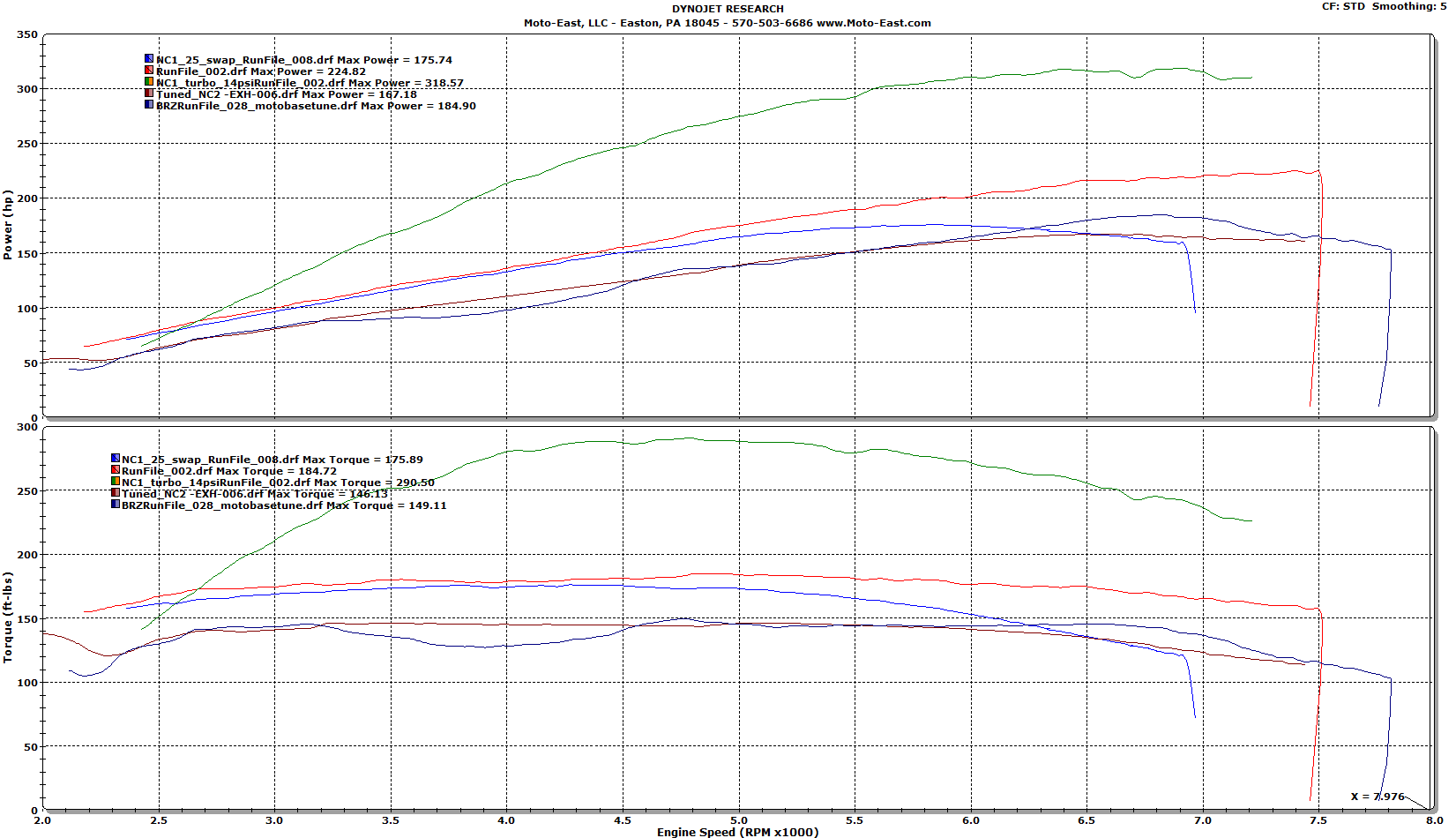 FT86: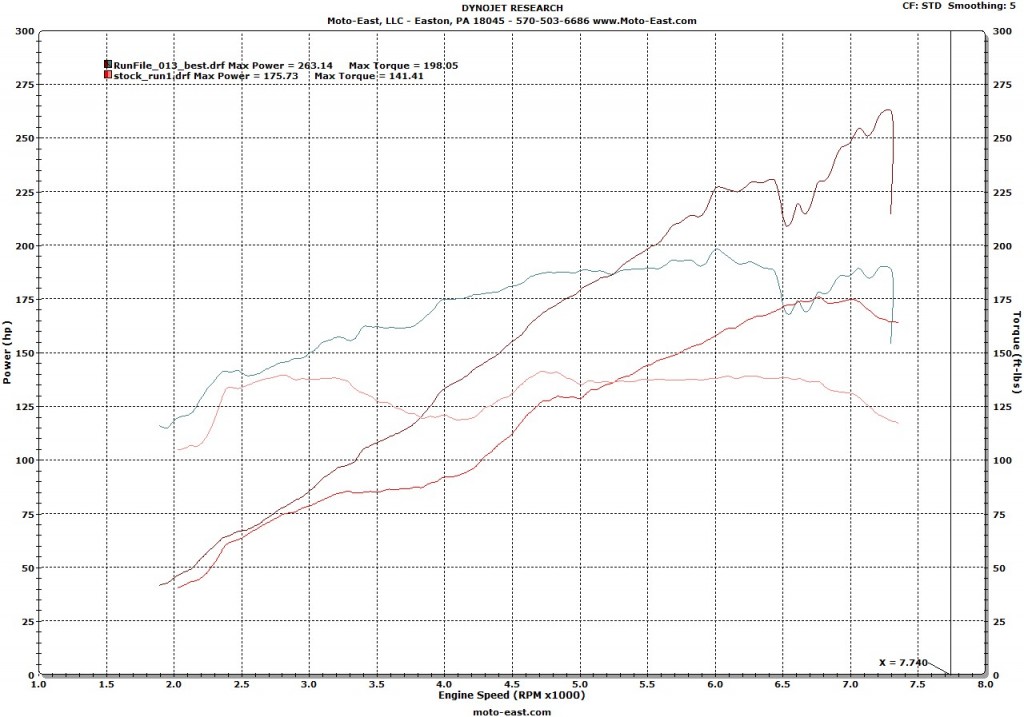 This is the Vortech Setup on STOCK fueling. We ran out of steam up top so we have a bit of a hiccup that should resolve easily with the new injectors due in. This is the highest Vortech HP on the BRZ and pump (92) gas.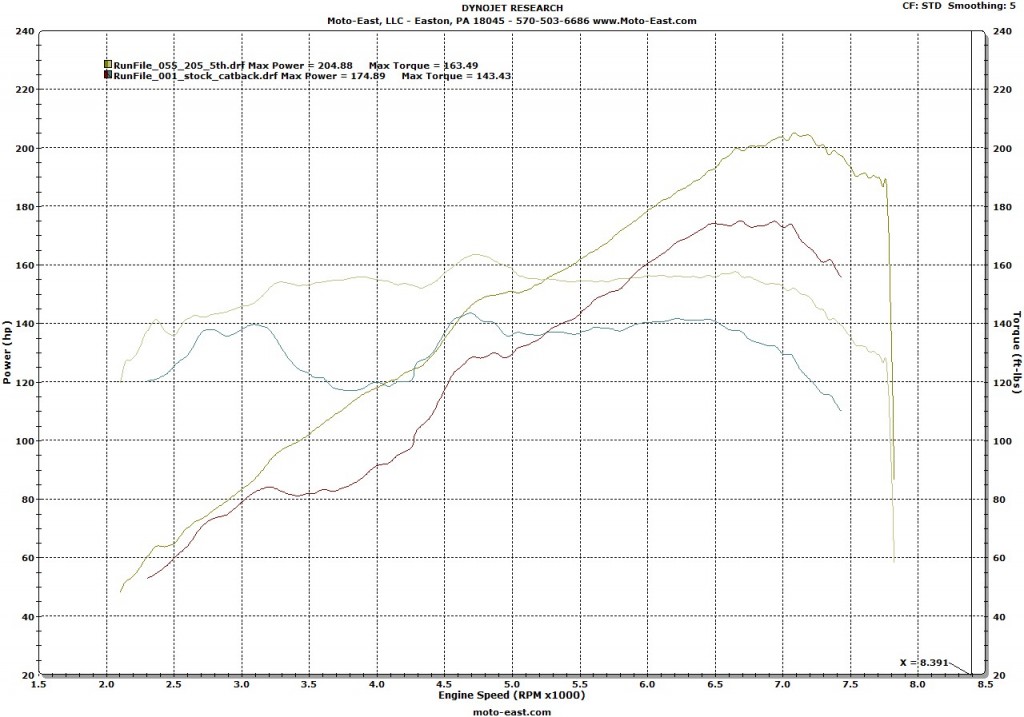 The above is the comparison of a stock BRZ, with one that has all of the bolt-ons (including header) and our tuning and e85.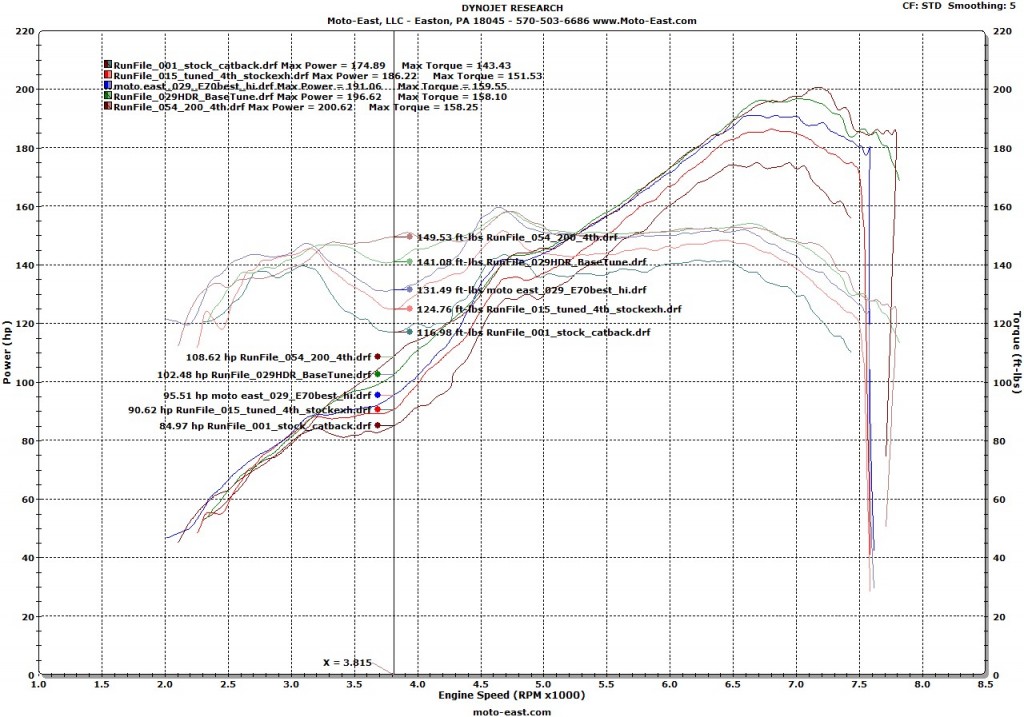 We often tout how much time we spend on the dyno, and each time we end up getting just a bit better. The above shows some of the various incarnations of the tunes, modifications, and other changes we've made to get a flatter torque curve and the highest HP for a normally aspirated BRZ/FR-S. You can see with each step that we fought tooth and nail for every last HP, and the end result is a flat torque curve, no dip, and a healthy top-end. This is what we do.
FR-S With JDL header/Moto East Tune vs stock: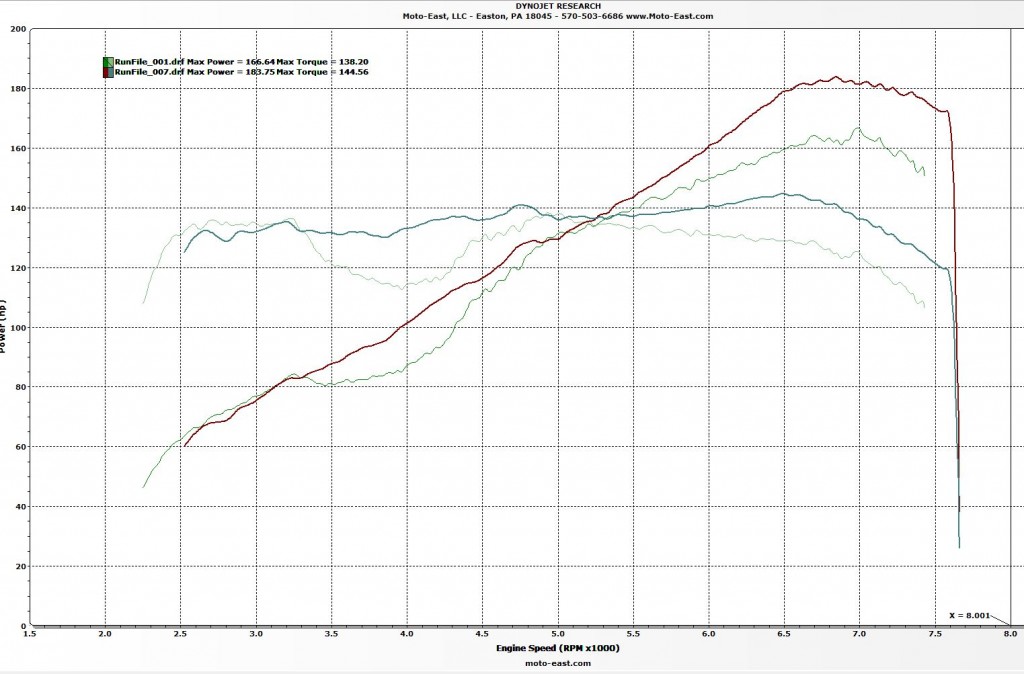 The Crawford Performance Power Blocks hit the scene with some controversy. Will they help? Or just shift the power band? As you can see, a bit of both!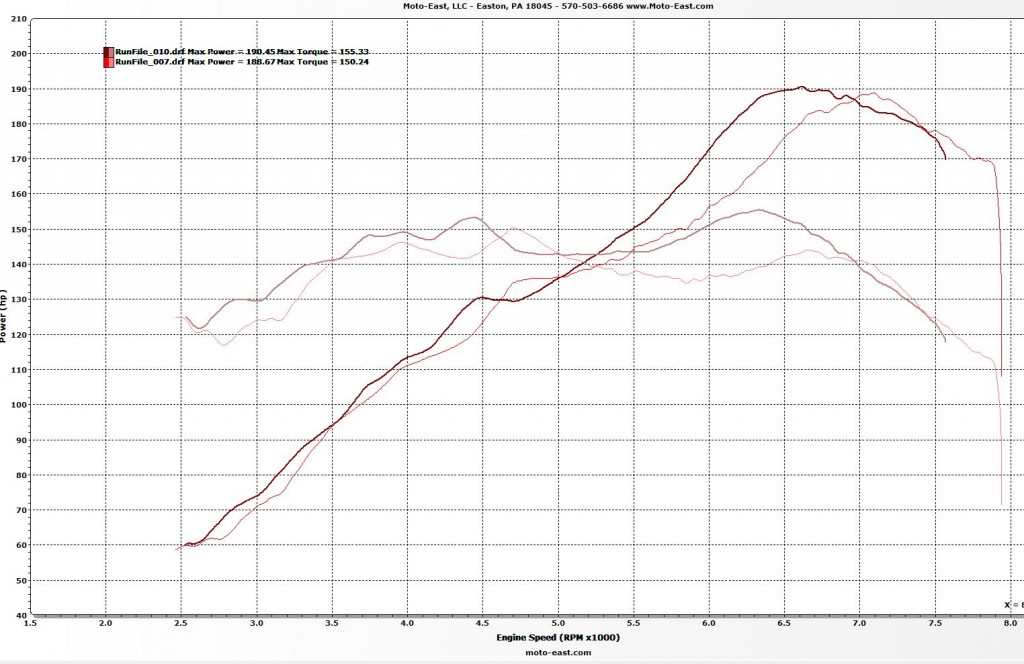 Comparison of an equal length vs unequal length header on the BRZ/FR-S/GT86. Note that it is on different cars, so only the curve (and not the actual peak numbers) matters: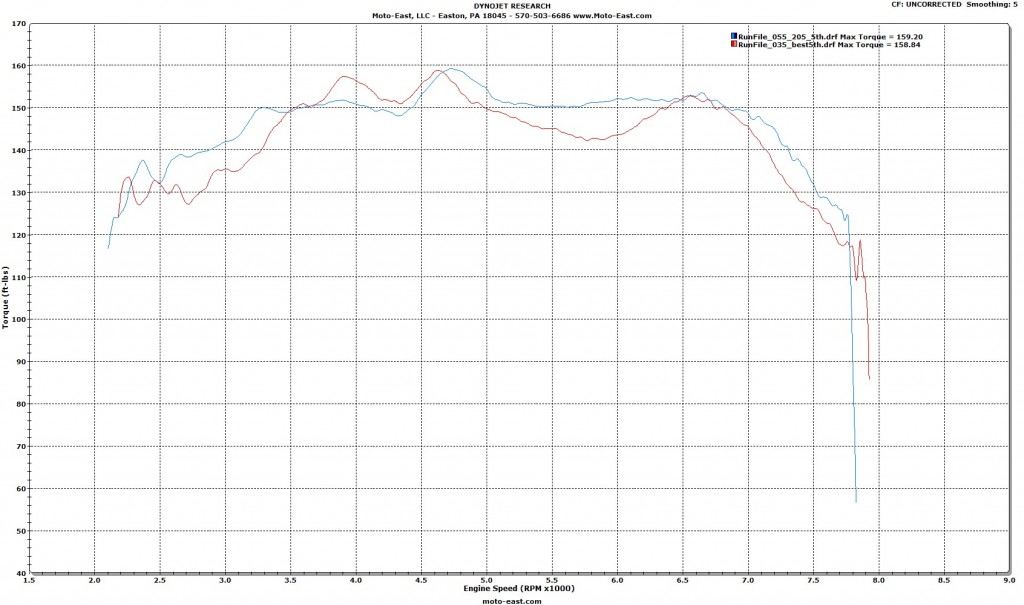 Jackson Racing FT86 System. This dyno was done uncorrected in 100 degree heat and 80% humidity. Correcting to STD of 1.04 would give us just north of 260 WHP, which is as expected for pump gas and a track safe tune. Who says Rotrex has to be peaky? Tons of HP 3800 and up when it is #mototuned.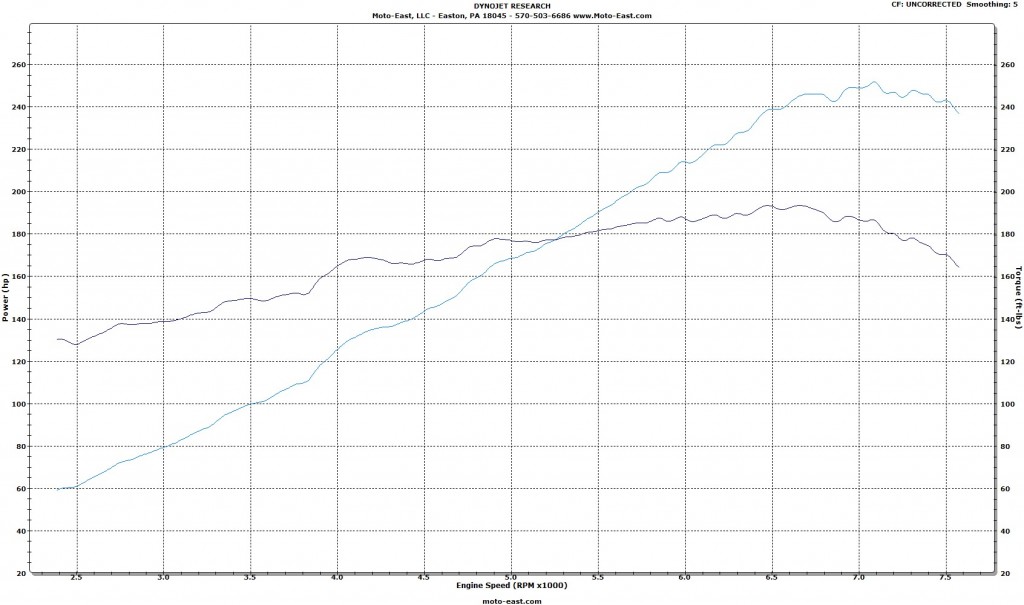 BRZ Innovate/Sprintex Supercharged/Intercooled, tested by Bob @ Drift Office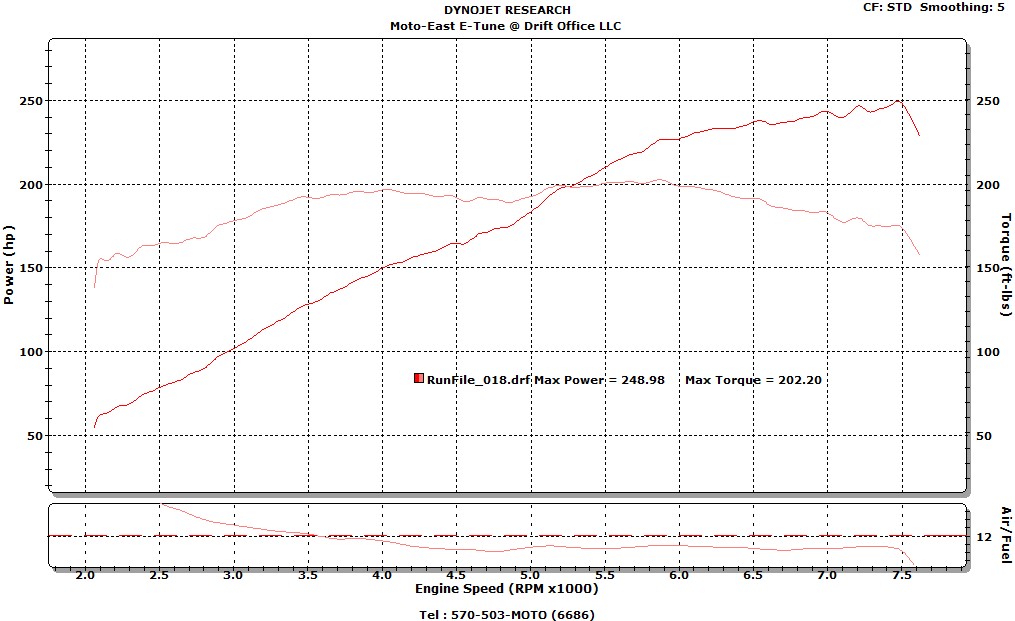 We had Bob @ Drift Office test a few of our tunes with our PNW customers. Below is a Kraftwerks C30-94 kit. Note the super flat torque curve despite a peaky rotrex blower. This is 100% remote tuned.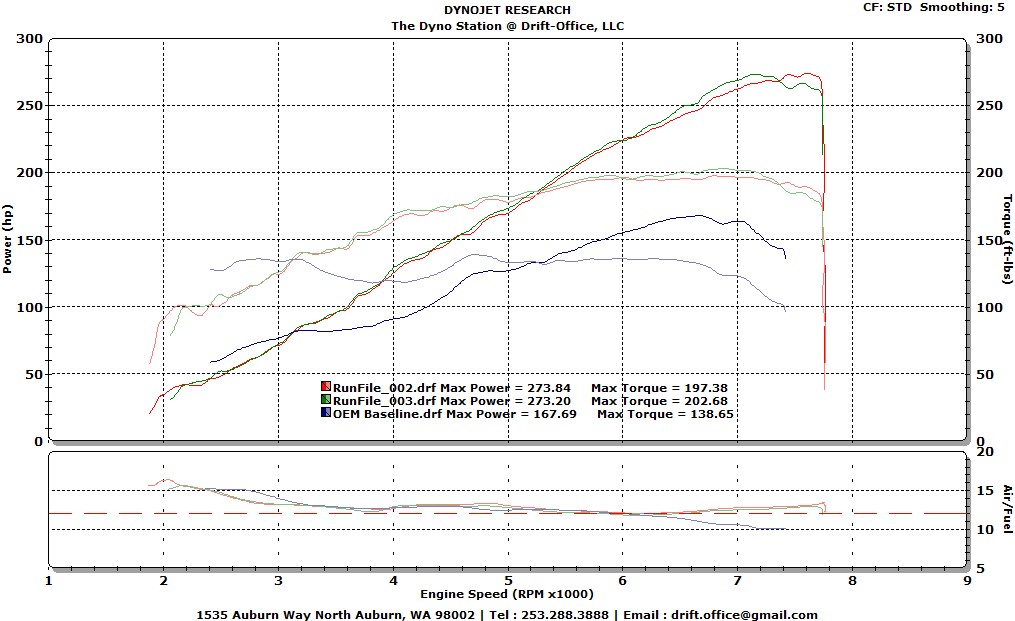 A local customer showing off the HP level of an ethanol equipped FR-S on the Innovate/Sprintex NON-intercooled kit. E85 has a way of cooling off the charge, enabling us to run aggressive timings and leaner AFR to achieve peak power. E85 NON-intercooled, local on the R/T Tuning Dynojet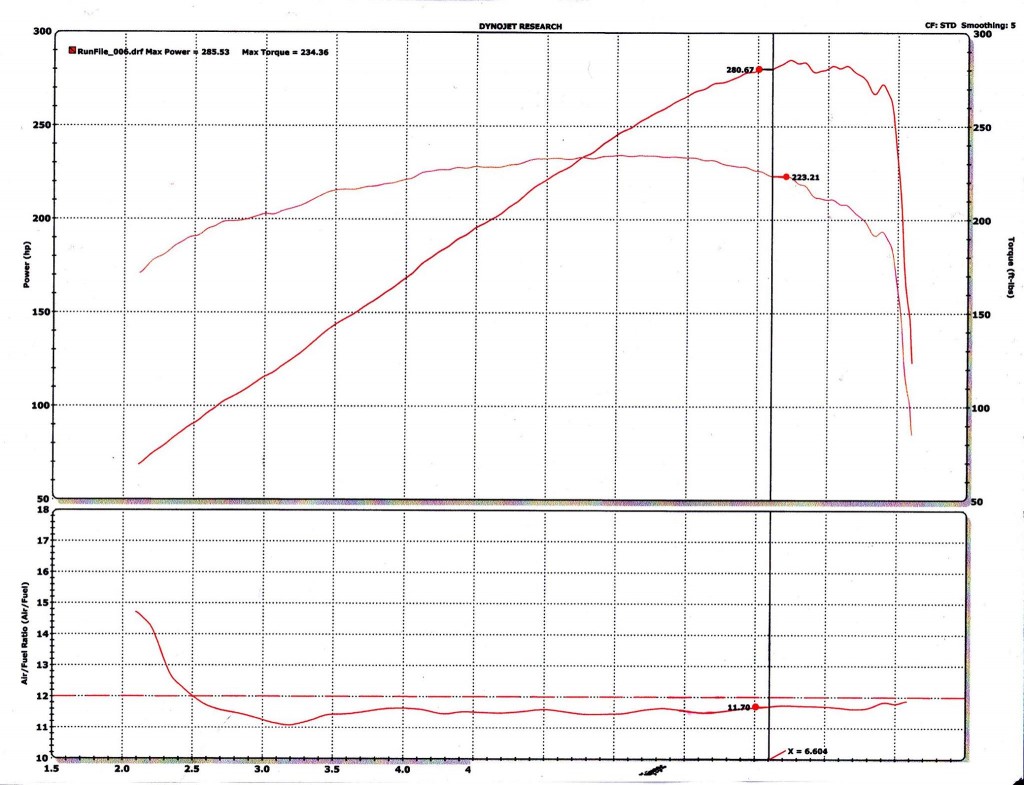 Is bigger always better? Lots of turbo kit manufacturers/builders often jump to a T3 housing for the sake of having high numbers to publish. In reality most folks will exceed the driveline limitations far below you run out of exhaust flow on a smaller turbine. Here's a T25 flanged GTX2867R on e85, 443 WHP! This is a JDL Auto Design turbo kit.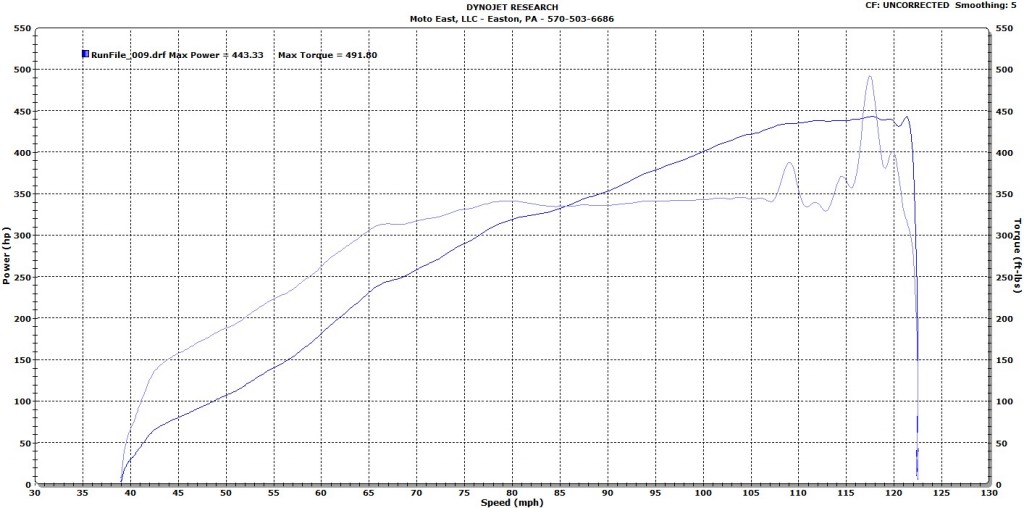 The 2008 STI is a popular platform, and there's no shortage of tuners for it. However, in addition the RaceROM features, you'll see very few achieve our results safely.